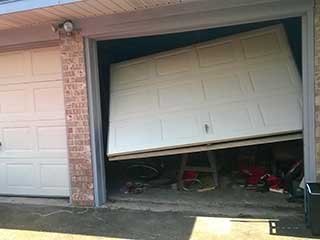 It's Important To Keep Your Door Healthy
As much as you have countless other projects around the home that need tending to, letting garage door repairs slide to the bottom of the list will only allow the problem to worsen! Continued use of a door that's malfunctioning from a busted or rusty part stresses the entire system, which makes everything break down even faster. This can eventually lead to your door suddenly not working altogether and leaving you stuck! That's why it's best to get the issue tended to as soon as possible by one of our experts who will be more than happy to help.
We'll Switch Out That Spring Quickly
No matter which type of spring your door has, extension or torsion, our trained technicians will be able to get it replaced right away! Don't be tempted to try to do it yourself, it's far too dangerous and any mistakes could not only harm you but also damage the whole system. We have years of experience, so we'll get it sorted out in no time and even test your door to make certain it's moving properly.
Your Tracks Will Be Like New
The tracks of your garage door may get tweaked or dented eventually. This makes it more difficult for your door to move along them and may slow it down or even cause it to disconnect from the track in spots. We'll take a look and either repair your track, or carefully replace it while making sure it's properly aligned and in the correct position.
Roller Repairs And Replacements
If the track itself isn't the issue, it may be the rollers inside that are giving your door grief as it tries to move. The rollers can become rusted or even broken over time from daily use, but we'll pry the track open to take a look and either fix them or get them switched out for brand-new ones.
Schedule Your Appointment
Call Garage Door Repair Oxford today for all of your door needs!
Need more? We also provide:
New Opener Remote Controls
New Garage Door Installation
Garage Door Cable Replacement
Roll up Garage Door Maintenance