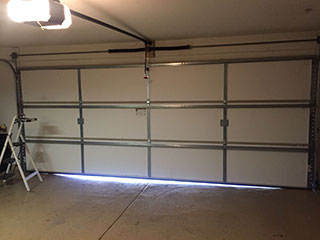 The regular service appointments our team offers are a great way to make sure your garage door doesn't suffer from easily avoidable problems and that its longevity is maximized. To make sure every part of your system stays in a functional shape, all you need to do is join our regular maintenance service.
Inspection And Adjustment
Torsion springs are perhaps the parts that can benefit the most from regular garage door maintenance. They need to be examined on a reoccurring basis to see if any of their coils are getting deformed, which would suggest that replacement is in order. They also need to be lubricated from time to time to make sure their performance remains silent and smooth. Sometimes their tension can grow loose, which can make the door become unbalanced. That's why our technicians always check this issue during every maintenance appointment, and adjust the tension of the springs as necessary.
Regular Opener Maintenance
The motorized unit that automates the operation of your garage door relies on a pair of safety sensors in order to prevent it from hitting an object or a person. These photoelectric eyes must be checked periodically in order to ensure that they are able to properly detect an obstacle. Sometimes they can become misaligned, which will prevent the door from reversing when it needs to. Ensuring this isn't the case is a major part of our regular maintenance routine, as customer safety is our highest priority.
A Complete Examination
There are additional parts of your garage door that need to be inspected on a regular basis to ensure their condition is optimal. Frayed cables and bent tracks are two of the leading causes of malfunctions, therefore both of these components will be carefully examined. Our experts will also check and lubricate the steel rollers, which will help keep the movement of the panels smooth and silent. The accumulation of all these minor tasks we mentioned (and a lot of other ones we haven't even gotten into) will help increase the lifespan of your overhead door and reduce the wear and tear it goes through.
We're Here To Help
Whether you're looking to book a maintenance appointment or you're in need of emergency spring replacement or opener repair, count on our team at Garage Door Repair Oxford to provide the service you need. Call us today.
We also offer the following:
Garage Door Off Track Repair
Garage Door Safety Inspections
Emergency Broken Spring Replacement
LiftMaster Garage Door Opener Repairs