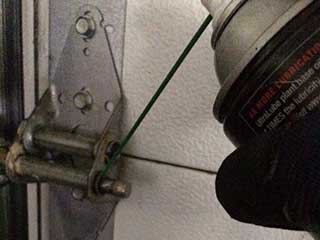 Regular maintenance of your garage door, including lubrication of key parts of the door, is important to ensure its long life. If you notice the door creaking or squeaking, it's probably due for lubrication, or you can do this work annually to prevent any issues. You can also contact our trained technicians at Garage Door Repair Oxford for a full system examination including parts lubrication.
Before You Begin
It's important to follow these steps before starting to lubricate the parts of your door. First, close the garage door using the remote or manually. You can then access the parts you need to work on. If you have an electric opener, disconnect the power supply by unplugging it, after closing the door. Clean the tracks thoroughly by wiping them out with a damp rag or using a vacuum to fully clean and to access those hard-to-reach spots on the tracks. Finally, purchase a lithium-based garage door grease or lube, which usually comes in an aerosol spray can. Don't use a popular standard degreaser like WD-40 and don't use oil.
Lubricate The Hinges and Rollers
Slowly open the door manually and as you open, spray each of the hinges where they meet the bend in the track. This keeps the moving parts of the door lubricated and should ensure the door opens and closes smoothly. One or two sprays per hinge should be sufficient to cover the hinge. Then spray the rollers, the circular parts that are attached to each hinge. The rollers have ball bearings inside that can be greased using the thin hose attachment on the aerosol can. Use it to spray grease inside the rollers and any exposed ball bearings.
Spray the Springs and Bearing Plates
Springs are found at the top of the door and must be lubricated, along with the bearing plates, which are found on either side of the springs. Spray both the outside of the springs and the center of the bearing plates, then manually open and close the door, which will distribute the lubricant.
Spray the Lock, Armbar and Rail
Spray lubricant once in the lock's keyhole, and then spray the large armbar that is located at the top of the door. Finally, spray down the top of the rail and use a rag to spread the grease. The rail is the part that the chain rides on, but the chain comes with natural protection so it doesn't need grease.