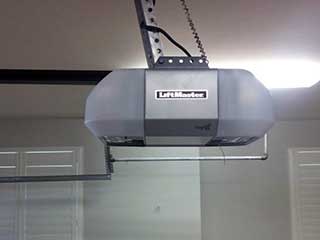 Our professional technicians specialize in a variety of services, one of which is garage door opener repair. Not only can we fix any type of problem that this electromechanical device may experience, we can also take care of the opener installation process and make sure that the system is fully operational and safe to use.
A Few Common Problems
One of the issues that often prevent openers from working correctly is a problem with the internal components. That could be a worn out motor gear or a damaged circuit board, both of which must be in top condition in order to allow the unit to function. Replacing either part requires a certain level of expertise, one which all our technicians possess. Problems with the opener safety sensors could lead to a situation where the door keeps reversing whenever you try to close it. Since sensor realignment is a delicate task that requires careful precision, we recommend that you give us a call if you experience such a malfunction.
Understanding The Different Types
Garage door openers can be divided into three different kinds, based on the drive system they use. Chain drive models tend to be more affordable and reliable than the others, but they are also the loudest, and the ones that require the highest amount of maintenance. Belt drive opener models are very quiet and operate much more smoothly, however they are also more expensive. Finally, screw drive units are the fastest of the three, and they require very little maintenance. However, they too can be noisy, and may be affected by changes in temperature.
Knowledge Is Everything
Understanding which type of opener is right for you, or what special technological features you may require can be quite exhausting. That's why we suggest that you contact our experts at Garage Door Repair Oxford and let us walk you through the shopping process, step by step. We'll make sure you don't neglect to consider how much horsepower you need, what level of noise output you're comfortable with and whether or not you want to be able to use your smartphone to open and close your door. We'll be more than happy to answer any questions you may have. Call us today.
Couldn't find what you're looking for? We also offer:
Part Replacement & Repair
Opener Remote Clicker Replacement
Garage Door Torsion Spring Replacement